About Icons
Water-Based Fire
Extinguishing SystemsPackage-Type, SP OWL
SP OWL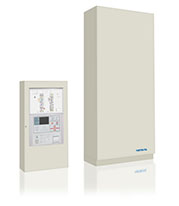 Features
Saves on installation costs compared to sprinkler systems, since less equipment needs to be installed

No water source, pump, water inlet, valve unit, water flow detector, or end of line test valve is needed. Additionally, there is no risk of freezing or leakage because the inside of the piping remains empty except when releasing water.

A high-performance extinguishing agent enables less amount to be discharged

A minimum of 12.8 tons of water must be supplied from the water source in order for a sprinkler system to work (when 8 units are discharging simultaneously at 80 L/min), but since SP OWL uses a high-performance fire extinguishing agent, it can be installed with only 220 L (=0.22 ton, equivalent to one full bathtub) of the agent.

Easy-to-read map display (HUMAP) makes it easy to identify where an alarm is going off

In the event a fire breaks out, the location can be quickly confirmed, and evacuation can be meticulously carried out. By installing a sub-receiver (optional), the map can also be displayed in locations other than the room where the control panel is installed, such as nursing stations.

Applying the advanced techniques that we cultivated in developing automatic fire alarm systems, we have succeeded in reducing the wiring, thereby bringing down installation costs.

The installation of an optional manual activation device will enable you to initiate fire suppression quickly, in the event a fire alarm (first alarm) goes off and you discover that a fire has started after checking the premises.
Specifications
Product Name

SP OWL

Product Category
Package-Type Automatic Fire Extinguishing System Type I
Model No.
HPSS1-200
Approval No.
PGA-005
System Specifications
Simultaneously Dischargeable Area
Max. 21 m²
Discharge Time
Approx. 2 min 45 sec
Max. Number of Areas
200 areas
Operating Temperature Range
0 to 40°C
Wiring
Heat-resistant wiring [*Ordinary wiring from addressable adapter to non-addressable detector]
Max. Wiring Length
When φ1.2 mm, max. length of transmission line is 600 m
Extinguishing Agent Unit
Extinguishing Agent
Type
Water with type 3 wetting agent solution, etc.
Internal Volume
112 L×2 units
Hydrostatic Test Pressure
1.6 MPa
Extinguishing Agent Fill Volume
110 L×2 units
Material
SUS304
Extinguishing Agent Cylinder
Empty Weight
Approx. 40 kg
Fill Gas
Nitrogen
Capacity
20 L
Max. Fill Pressure
14.7 MPa
(35°C)
Gas Weight
Approx.
3.2 kg
Cylinder Valve
Model
HFV-40N
Approval No.
Yo-083
Solenoid Valve Actuator
Model
CS-24T
Rated Voltage
DC24V/1.5A
Pressure Regulator
Inlet Pressure
14.7 MPa
Outlet Pressure
0.85–0.95 MPa
Receiver
Main Unit
Power
AC100 V 50/60 Hz
Emergency Power Supply 6 Ah
Capacity
6 Ah/5 HR
Approval No.
13-6
Emergency Power Supply 10 Ah
Capacity
10 Ah/5 HR
Approval No.
14-1
Selector Valve
Rated Voltage
DC24 V
Head (Water Outlet)
Max. Number of Units
4 units per simultaneously dischargeable area
Material
Nickel plating
Discharge Volume
23.3 L/min (per unit when 0.1 MPa)
Max. Height
3.6 m
Head Center Distance
2.3 m (R1.6 m)
Detector
Our designated product that has met Japanese standards
Manifold (Discharge Tube)
Material
C3604B
Weight
Approx.
380 g
Hydrostatic Test Pressure
1.6 MPa
Piping
Main Piping
Material
SGP
Nominal Diameter
25 A
Max. Piping Length
90 m
Branch Piping
Material
C1220T
Outside/Inside Diameter
12 mm/10 mm
Max. Piping Length
6 m
Manual Activation Device
(Optional)
Model
KG20C-10B Type Key Switch
Classification
Extinguishing Agent Unit
Receiver
External Dimensions
908(W)×2,000(H)×350(D) mm
540(W)×1,050(H)×180(D) mm
Material/Coating Color
SPCC/Munsell: 8N
Steel Plate/Munsell: 5YB/0.5
* Please contact our sales representative for pricing and other information.