About Icons
ing24Ⅱ

ing24Ⅱ

RE-35Z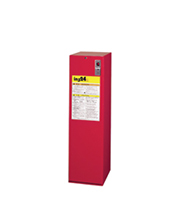 RE-60Z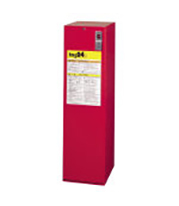 Features
Automatic Fire Extinguishing System (Mechanical Foam) for Electrical Discharge Machines (EDM) and Rotogravure Printing Equipment
The ing24II ensures the safe operation of EDMs and rotogravure printing equipment. Fire accidents can occur while EDMs and rotogravure printing equipment using organic solvents are running. Even if one machine is stopped, the slowdown in production and the recovery process will clearly lead to significant losses. The ing24II can support your company's BCP by keeping damage to a minimum if a fire occurs.
---
Excellent extinguishing performance

The ing24II will quickly and effectively detect and extinguish a fire. The amount of extinguishing agent can be chosen depending on the size of the processing tank or ink pan.

24-hour automatic detection

The ing24II is equipped with a fire detector so it can automatically detect a fire 24 hours a day, giving you peace of mind.

Instant detection with flame detector (limited to the model dedicated for rotogravure)

In addition to the standard heat detector, the ing24II can also be equipped with a flame detector. The flame detector is exceedingly fast at detecting fires, and so can keep damage to a minimum. It also includes a false alarm prevention function.

Compact and slim box

The ing24II is designed with the concept of being slim and compact, so that it will not interfere with the customers' working environment.

Various interlock outputs

The ing24II is not only an automatic fire extinguishing system, it can also shut down the EDM or rotogravure and issue a fire alarm signal by using its various interlock outputs.

Optimal Fire Detector

[Heat Detector]・THKS-10
Specification
Product Name
ing24Ⅱ
Model

RE-35Z

RE-60Z

Approval No.
HT-DE-01-000
HT-DE-02-000
Extinguishing Agent Type
Mechanical foam extinguishing agent
Equipment Weight
Approx. 14 kg
Approx. 20 kg
Extinguishing Agent Volume
3.5 L
6.0 L
Operating Temperature Range
0°C to +40°C
Discharge Time (Approx.)
60 sec
80 sec
Box
External Dimensions
580(H)×
180(W)×230(D) mm
760(H)×
210(W)×250(D) mm
Material
SPCC
Foam Release Nozzle
Small type foam nozzle (Model N1-L1)
Control Panel
Input Voltage
AC200 V ±10% 50/60 Hz
Alarm Buzzer
Fire: continuous sound;
Fault: intermittent sound
Power Indicator Lamp
Green LED
(Normal condition: ON,
Faulty condition: Flashing,
No power: OFF)
Heat Detector Input
2 lines (fixed at 70°C setting)
Fire Annunciating Relay
Form C contact ×1
Fault Annunciating Relay
Form C contact ×1
(Fault includes: Sensor open circuit, actuator disconnection, power failure, remote push button (discharge) line open circuit, and fire alarm)
Product Code
60063299
60063399
* We also offer infrared flame detectors as an option.
For more information, please contact our sales representatives.