About Icons
Automatic Fire Extinguishing Systems for New Energy

Wind Cabi

HAX-10BW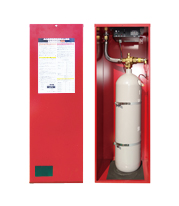 HAX-20BW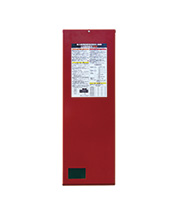 Features
Automatic Fire Extinguishing System for Wind Turbines
Wind Cabi is an automatic extinguishing system that leaves no residue on machinery after the extinguishing agent is released. It is a system that is both effective and safe, giving you peace of mind in the unlikely event of a fire. Designed in compliance with the Fire Service Act, it is the first in the industry to be approved by the Fire Equipment and Safety Center (FESC), providing you an enhanced safety.
---
Halon 1301 is a clean extinguishing agent

・Halon 1301 gas is used so there is little damage to equipment, allowing for quick recovery after the fire is extinguished.
・Extinguishing performance is high, so only a small amount of gas is required to extinguish the fire, allowing for a compact, space-saving storage cylinder.
・Objects in open areas (subject to localized fire suppression) such as brake pads and oil tanks can be protected as well.
・In Japan, Halon can be used for this application in accordance with Japan fire code No. 466, 2014 (Partial Amendment to the Regulation Concerning the Restriction of the Use of Halogenated Extinguishing Systems and Equipment Using Halon Extinguishing Agents).

Powered by primary lithium battery

・Because it is battery-powered and independent of AC power, the system is resistant to noise from lightning strikes.
・Long-term monitoring is possible with a battery life of 1 year.

Excellent heat sensing system

・A compact, fast-responding thermal detector enables the detection of early-stage fires inside the equipment.

Excellent fault detection

・The system automatically detects faults such as heat sensor open circuit, remote push button (discharge) line open circuit, dead batteries, or actuator disconnection.

Remote activation capability

・When a person discovers a fire, the system can be activated from outside the nacelle using the remote discharge button.

First in the industry to be approved by FESC

・The system has been approved by the FESC as an automatic fire extinguishing system for protecting wind turbines.
Specifications
Main Unit/Box
Product Name
Wind Cabi
Model Code
CABINEX BW
Approval No.
27-003 *1
Model

HAX-10BW

HAX-20BW

Extinguishing Agent
Halon 1301
Extinguishing Agent Weight
10.0 kg
18.8 kg
External Dimensions
H910 mm × W300 mm × D280 mm
Main Unit Weight
Approx. 40 kg
Approx. 65 kg
Coating Specifications
Red color JPMA J2-142
(melamine baking finish)
Operating Temperature Range
-10°C to +50°C
(excluding nozzles and detectors)
Operating Humidity Range
0%–85% with no condensation
Control Panel
Battery Type Used
Dedicated primary lithium battery × 2
(battery life: 1 year)
Heat Detection Sensor Input Circuit
4 lines (fixed at 100˚C, OR operation)
Start-Up Button
Red push button
(with breaking acrylic plate) *2
Remote Push Button Input
1 input (for discharge activation),
optional *3
Alarm Buzzer
Electronic buzzer (Fire: continuous sound; Fault: intermittent sound)
Buzzer Switch
For stopping the sound of alarm buzzer
Power Indicator Lamp
Green LED (Lights up when the power check button is pressed)
Fire Indicator Lamp
Red LED (Flashing in case of fire)
Fault Indicator Lamp
Yellow LED (Flashing in case of fault)
Flashes at faults shown below:

・Heat detection sensor open circuit
・Remote push button line open circuit
・Gas-generating actuator unit setup failure
Fire Annunciating Relay
Form A contact ×1 (output at fire)
Machine Stop Relay
Form C contact ×1 (output at fire)
Fault Annunciating Relay
Form C contact ×1 (output at fault)
Outputs at faults shown below:

・Heat detection sensor open circuit
・Remote push button line open circuit
・Dead battery
Contact Specifications
Max. Current: 2 A
Max. Voltage: AC250 V, DC220 V *4
Nozzle
Nozzle Shape
Front discharge type nozzle
Discharge Time
Within 30 seconds
*1. The product has been evaluated for performance by the Fire Equipment and Safety Center of Japan (FESC).
*2. The start-up push button is used only when performing maintenance work on the control panel.
*3. The remote push button is used to activate the fire extinguishing system by remote control.
  To connect the push button, select "non-voltage form 'A' contact type".
*4. This is the maximum resistive load rating.
  Note that inductive loads have a lower switching capacity than resistive loads.
  For a steady current flow such as Form B contacts, the current should be 1A or less.
For more information, please contact our sales representatives.