About Icons
Automatic Fire Extinguishing Systems for New Energy

Smart Grid Cabi

HAMH-68-SG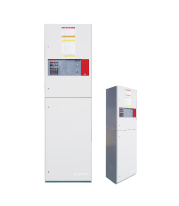 For more information, please contact our sales representatives.



Features
Automatic Fire Extinguishing System for Battery Storage Container Systems
The Smart Grid Cabi is a package-type automatic fire extinguishing system with all the necessary functions for suppressing fires built into a compact box. It is a system that is both effective and safe, giving you peace of mind in the unlikely event of a fire.
---
Excellent extinguishing performance

・The system uses Halon 1301, which has excellent fire extinguishing properties. Only a small amount of the agent is required relative to the cubic volume, allowing for a compact design
In Japan, Halon can be used for this application in accordance with Japan fire code No. 466, 2014 (Partial Amendment to the Regulation Concerning the Restriction of the Use of Halogenated Extinguishing Systems and Equipment Using Halon Extinguishing Agents).

Effective for electrical fires in battery energy storage systems, etc.

・This fire extinguishing system is ideal for battery storage container systems because of its high insulation, high permeability, and excellent fouling resistance.

Safe for humans

・Because it is low in toxicity and safe for the human body, it is safe for people to enter the protected area where the system is installed.
Equipment Specifications (Main Type)
Product Name
Smart Grid Cabi
Control Unit Approval Name
COM-A
Control Unit Approval No.
086
Product Designation
68 L Main Type
Model Code
HAMH-68ーSG
Total System Weight (when filled)
Approx. 238 kg
Approx. 248 kg
Extinguishing Agent Type
Halon 1301
Filled Extinguishing Agent Weight
60 kg, 70 kg
Extinguishing Agent Cylinder
Material: manganese steel, etc.;
Hydrostatic test pressure:
12.8 MPa;
Coating color: gray
Cylinder Valve
Approval No.: Yo-081
Model Code: HFV-68H
Box Dimensions
W525×D380×H1,915
Box Construction
Single, front opening (t=1.6 mm)
Box Coating
Coating color: White
(JPMA main unit: P2, door: P1 approximate)
Operating Temperature Range
0°C to +40°C
Operating Humidity Range
85% or less
Voice Alarm System
AA-008 (Certified product)
Manual Activation Device
No. 14-427 (FESC-approved)
Model Code: RPB-237
Product Name
Smart Grid Cabi
Control Unit Approval Name
COM-A
Control Unit Approval No.
086
Product Designation
47 L Main Type
Model Code
HAMH-47ーSG
Total System Weight (when filled)
Approx.
186 kg
Approx.
196 kg
Approx.
206 kg
Extinguishing Agent Type
Halon 1301
Filled Extinguishing Agent Weight
30 kg, 40 kg, 50 kg
Extinguishing Agent Cylinder
Material: manganese steel, etc.;
Hydrostatic test pressure:
12.8 MPa;
Coating color: gray
Cylinder Valve
Approval No.: Yo-081
Model Code: HFV-68H
Box Dimensions
W525×D380×H1,915
Box Construction
Single, front opening (t=1.6 mm)
Box Coating
Coating color: White
(JPMA main unit: P2, door: P1 approximate)
Operating Temperature Range
0°C to +40°C
Operating Humidity Range
85% or less
Voice Alarm System
AA-008 (Certified product)
Manual Activation Device
No. 14-427 (FESC-approved)
Model Code: RPB-237
Equipment Specifications (Sub Type)
Product Name
Smart Grid Cabi
Product Designation
68 L Sub Type
Model Code
HASH-68-SG
Total System Weight (when filled)
Approx. 238 kg
Approx. 248 kg
Extinguishing Agent Type
Halon 1301
Filled Extinguishing Agent Weight
60 kg, 70 kg
Extinguishing Agent Cylinder
Material: manganese steel, etc.;
Hydrostatic test pressure:
12.8 MPa;
Coating color: gray
Cylinder Valve
Approval No.: Yo-081
Model Code: HFV-68H
Box Dimensions
W525×D380×H1,915
Box Construction
Single, front opening (t=1.6 mm)
Box Coating
Coating color: White
(JPMA main unit: P2, door: P1 approximate)
Operating Temperature Range
0°C to +40°C
Operating Humidity Range
85% or less
Product Name
Smart Grid Cabi
Product Designation
47 L Sub Type
Model Code
HASH-47-SG
Total System Weight (when filled)
Approx.
186 kg
Approx.
196 kg
Approx.
206 kg
Extinguishing Agent Type
Halon 1301
Filled Extinguishing Agent Weight
30 kg, 40 kg, 50 kg
Extinguishing Agent Cylinder
Material: manganese steel, etc.;
Hydrostatic test pressure:
12.8 MPa;
Coating color: gray
Cylinder Valve
Approval No.: Yo-081
Model Code: HFV-68H
Box Dimensions
W525×D380×H1,915
Box Construction
Single, front opening (t=1.6 mm)
Box Coating
Coating color: White
(JPMA main unit: P2, door: P1 approximate)
Operating Temperature Range
0°C to +40°C
Operating Humidity Range
85% or less
Electrical Specifications
Discharge Activation Method
Main type uses manual/automatic selector switching;
subtype is operated by main type
Detector Circuit
2 lines with AND activation
Delay Timer
Can be set between 0–99 seconds
Monitor Function
[1] Detection of sensor open circuit
[2] Detection of ground fault
[3] Detection of circuit voltage fault
[4] Detection of manual activation line short circuit
System Setting
Manual: Manual lamp on, system set to manual activation;
Auto: Auto lamp on, system set to automatic activation
Relay Function
[1] Manual/Auto relay Form C contact ×1
[2] Fire relay Form C contact ×1
[3] Activation relay Form C contact ×1
[4] Discharge relay Form C contact ×1
[5] Fault relay Form C contact ×1
[6] Machine stop relay Form C contact ×1

Contact Specifications
Contact Rating: 60 W/125 VA max.
Max. current: 1 A,
Max. voltage: AC250 V/DC220 V
Solenoid Valve Actuator
Model Code: CS-24T
Pilot Cylinder
Model C-1S, filled with 0.6 kg gas
Maintenance Function
(Switching by shut-off valve)
Normal: Normal lamp ON, system can function
Maintenance: Maintenance lamp ON, system maintenance can be performed
Fault: Fault lamp ON, check the setting of the shut-off valve
Shut-Off Valve Unit
Model Code: MEB-2L
Circuit Voltage
DC24 V
Power Consumption
Max. 50 W
Emergency Power Supply
Can be built in by selecting from the following types:

◆ Battery Power Supply Systems (Certified products)
[1] Battery capacity: 3.5 AH, Power supply: AC100 V
[2] Battery capacity: 3.5 AH, Power supply: AC200 V
Installation Example of Smart Grid Cabi, Automatic Fire Extinguishing System for Battery Storage Container Systems