About Icons
Water-Based Fire
Extinguishing SystemsPackage-Type, PSICW-80A
PSICW-80A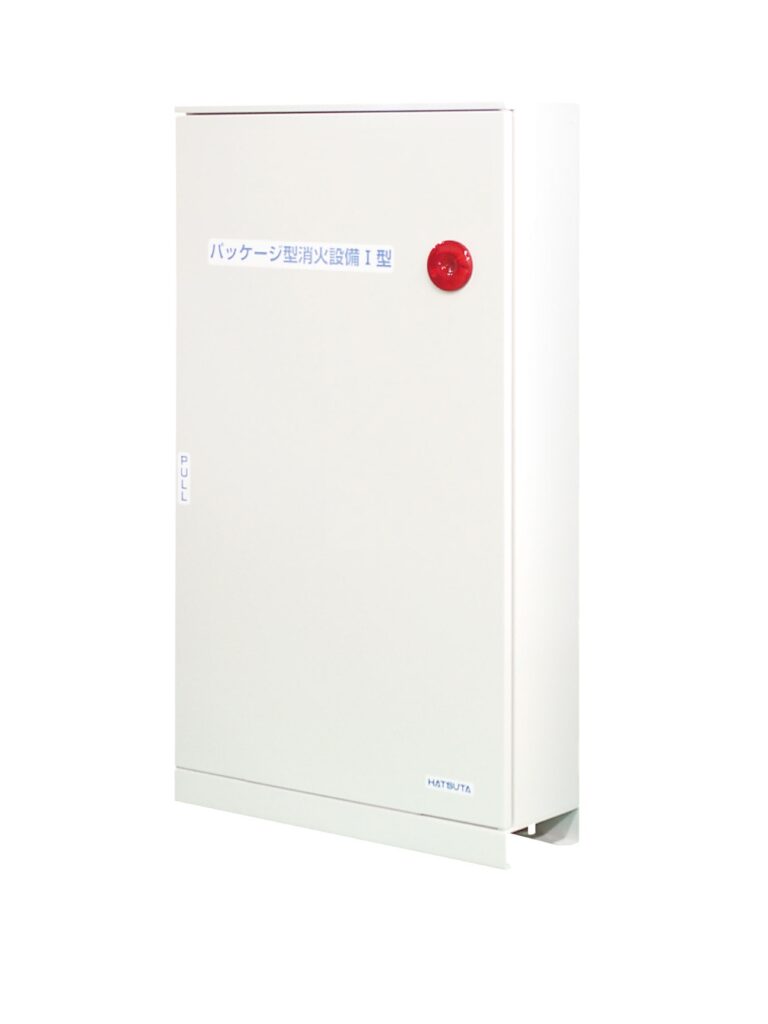 (with the door open)
(Filling kit)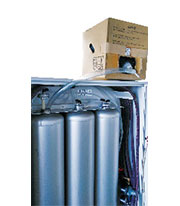 Features
Package-Type Fire Extinguishing System Type I PSICW-80A [Released 2021]
Compact and easy to install! The pioneering package-type fire extinguishing system SUPER OWL has been completely revamped!
As an alternative to indoor fire hydrants, the package-type fire extinguishing system type I can be installed within buildings that require the installation of indoor fire hydrants.
Everything you need in one slim and compact system! No water tank, pump, emergency power supply, or piping is necessary, which are normally required for indoor fire hydrants.
Therefore, it is cost-saving compared to fire hydrants! Installation is easy too.
---
Equipped with low-profile indicator lamp

• Dimensions of the part that protrudes outside the box are approximately one-fifth of conventional indicator lamps
• Although low-profile, the light can be recognized from a wide range

Dedicated tube for easy and speedy filling

• A dedicated tube with an open/close valve can be directly connected to a polyethylene cylinder containing the extinguishing agent, allowing for improved efficiency and reduced work time.

No. 1 discharge distance in the industry

• Maximum 16-meter discharge distance from nozzle
• Increase the safety of firefighting operation

SUS-made extinguishing agent cylinder ensures excellent corrosion resistance

• There is no need to worry about the inner coating peeling off, since there is no corrosion caused by fire extinguishing agents

Combination box configurations are also available (optional)

• A combination box equipped with a local fire alarm (alarm bell) and a transmitter, in addition to the red indicator lamp, is also available
[Manufacturers and model numbers of transmitters that are confirmed as installable]
Panasonic: BV6124 Nohmi Bosai: FMMJ102-U NITTAN: 1MF1A-U
[Manufacturers and model numbers of alarm bells that are confirmed as installable]
Panasonic: BV92631 Nohmi Bosai: FBM023 NITTAN: BD-6-24-11 Hochiki: FBB-150I

Specifications
Product Name

PSICW-80A

Item
Floor-Mounted (Indicator Lamp)
Floor-Mounted
(Combination Box)
Recessed (Indicator Lamp)
Recessed
(Combination Box)
Product Model
PSICW-80A-RH
PSICW-80A-RS
PSICW-80A-UH
PSICW-80A-US
Approved Model Code
HSST-825S
Approval No.
PG-049
Product Category
Package-Type Fire Extinguishing System Type I
Extinguishing Agent Type
Water with type 3 wetting agent solution, etc.
Extinguishing Agent Approval No.
16-1
Installation Method
Floor mount (with base)
Wall recessed
Cartridge-Operated or Stored Pressure Type
Cartridge-operated (with regulator)
Operation Method
By rotating handle (on the gas cartridge)
Operating Pressure
0.9±0.05 MPa
Total System Weight
Approx. 175 kg
Extinguishing Agent Volume
80.4 L (Approx. 102 kg)
Operating Temperature Range
-20°C to +40°C
Functions
Discharge Time
150 sec
Discharge Distance
Approx. 17.0 m
Discharge Flow Rate
28.0 L/min
Box
External Dimensions
750(W)×1,350(H)×230(D) mm
808(W)×1,315(H)×230(D) mm
Dimensions of Recessed Part
–
770(W)×1,285(H)×210(D) mm
Adjustable Range from Frame to Body
–
Max. 25 mm (*)
Material
SPCC
Coating Color
JPMA N-85 (light gray)
Door Swing Direction
Front opening, right-swing
Extinguishing Agent Cylinder
Internal Volume
84 L (28 L×3)
Material
SUS304
Anti-Rust/Corrosion Resistance
Uses corrosion-resistant material
Hydrostatic Test Pressure
1.60 MPa
Number of Cylinders
3
Gas Cartridge
Cartridge Valve Approval No.
59-1
Internal Volume
3.4 L
Material
STH-70
Coating Color
Gray
Gas Type
Nitrogen
Gas Fill Volume
565 g
Hydrostatic Test Pressure/Leak Test Pressure
24.5/14.7 MPa
Max. Fill Pressure
14.7 MPa (35°C)
Safety Valve Actuation Pressure
16.7–19.6 MPa
Number of Cartridges
1
Hose
Dimensions
Φ17.0 (outer diameter) × Φ13.0 (inner diameter) × 25 m
Material
(Outer surface) Polyester fiber weave
(Inner surface) Polyurethane resin
Hydrostatic Test Pressure
1.5 MPa
Storage Method
Hose rack
Nozzle Valve
Open/Close Valve
Ball valve (Nominal diameter: Rc1/2)
Nozzle Diameter
Φ6 mm
Material
C3771B, etc.
Anti-Rust/Corrosion Resistance
Cr plating
Pressure Regulator
Regulator Pressure (Fixed)
0.9±0.05 MPa
Material
C3604B
Piping:For Pressure
Material
Nylon
Diameter
Φ6 mm x3
Piping:For Liquid
Material
ABS
Diameter
Φ10 mm
Other
Red Indicator Lamp
100 V (can be optionally changed to AC24V or DC24V)
Valve for Inspection
Ball valve method (Nominal diameter: Rc1/4)
Check Valvec
1 unit (Pressure inlet)
Combination Box
-
Can be equipped with our designated transmitter and alarm bell
-
Can be equipped with our designated transmitter and alarm bell
Product Code
60060499
60060599
60060699
60060799
* Please embed the body of the recessed type system so that it does not protrude from the finished surface of the wall.