About Icons
Extinguisher Stands/
Extinguisher Unit BoxesExtinguisher Stands
Eco Base N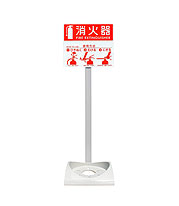 Plate Size:H57×W205×D219 mm
Total Height:H716 mm
Product Code:58959060
Eco Plate N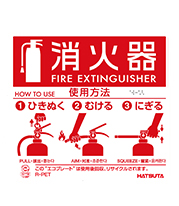 Size:H230×W250 mm t=0.6 mm
Product Code:58959160
Features
Industry-first Eco Mark-certified extinguisher stands
These are new fire extinguisher stands that meet environmental and quality standards.
---
Innovative design

Eco Base and Eco Base N adopt a product design that is not only Eco Mark-certified but also functionally beautiful.
They are also ideal for green purchasing.

Incorporate Color Universal Design

The products are designed based on Color Universal Design, so that they can be easily seen by as many people as possible, regardless of individual differences in color perception.

*Limited to Eco Base N and Eco Plate N

Incorporate universal design

Chinese and Korean are now listed in addition to Japanese and English.
The display sign also features Braille, out of consideration for the visually impaired as well.

Easy transport, storage, and assembly

The extinguisher stands are designed to be completely stackable.
The package size has been reduced by 55%, a significant reduction compared to our previous products!
Since screws are not required for assembly, they save more time and effort.

Eco Mark certified products


These are Eco Mark certified products. *Eco Plate and Eco Plate N have different certification numbers.