About Icons
Fire Extinguishers
for Marine UsePortable ABC Dry Chemical Fire Extinguisher
SDPC-17X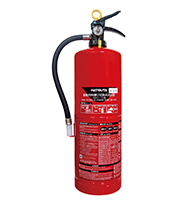 PP-20M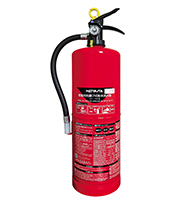 Features
Sail safely with Burstless™ fire extinguishers for marine use (stored pressure type)
We have incorporated the three considerations of "ECO," "UD," and "QUALITY" that we aim for into our marine fire extinguishers as well.
---
The Burstless™ fire extinguishers (stored pressure type) allow for easy routine inspections without the risk of rupture

Instead of using a separate gas cartridge, the cylinder is filled with clean nitrogen gas to maintain uniform pressure at all times, and thus there will be no rupture. Also, routine inspections can be performed just by checking the pressure gauge.

* All accidents involving ruptured fire extinguishers in the past 10 years have been attributed to cartridge-operated fire extinguishers. None have involved stored pressure type extinguishers. The Burstless™ fire extinguishers (stored pressure type) are designed for enhanced safety by preventing sudden increase in pressure during operation.

Universal design makes it easy to use even at a moment's notice

The force required to squeeze the lever of the SDPC-17X is about one-third that of previous products. It is a UD-type fire extinguisher that anyone can discharge. In addition, the handle of PP-55M has been made 1.7 times thicker than previous products, making it easier to carry to fire scenes. The force required to operate the fire extinguisher has been reduced to about one-fifth, enabling effortless fire suppression even in emergencies.
Specifications
Product Name
Portable ABC Dry Chemical Fire Extinguisher
Model

SDPC-17X

PP-20M

Standard
MLIT-approved (HK-approved)
Approval No.
5031
5489
Total Weight
Approx. 8.3 kg
Approx. 9.3 kg
Total Height
Approx. 580 mm
Approx. 580 mm
Total Width
Approx. 255 mm
Approx. 255 mm
Depth
Approx. 156 mm
Approx. 156 mm
Cylinder Diameter (WΦ)
156 mm
156 mm
Extinguishing Agent Volume
ABC Dry Chemical 5.0 kg
ABC Dry Chemical 6.0 kg
Cylinder Capacity
7.5 L
7.5 L
Applicable Fires
Ordinary, oil, and electrical fires
Discharge Time at 20°C
Approx. 14 sec
Approx. 18 sec
Discharge Distance at 20°C
Approx. 4–7 m
Approx. 4–7 m
Operating Temperature Range
-30°C to +55°C
Anti-Rust/Corrosion-Resistant Treatment
Red synthetic resin paint baked coating
Hose
Approx. 400 mm
Approx. 400 mm
Hydrostatic Test Pressure
5.5 MPa
5.5 MPa
Packing/Shipping Unit
1
1
Product Code
92305100
92306000