About Icons
Fire Extinguishers
for Marine UsePortable Carbon Dioxide Fire Extinguisher
SHC-11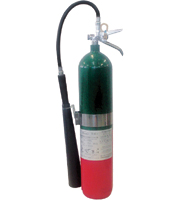 Features
An ideal lineup of fire extinguishers
Different extinguishing agents are required for different types of cargos and vessels. We offer a variety of agents to suit your needs, such as ABC dry chemical, chemical foam, and carbon dioxide.
---
With superior corrosion resistance, they last longer!

The cap is made of die-cast aluminum with an anodized surface to enhance anti-rust effect.

A powerful handheld fire extinguisher!

It is easy to handle, and demonstrates superior firefighting power for all types of fires.
Specifications
| | |
| --- | --- |
| Product Name | Portable Carbon Dioxide Fire Extinguisher |
| Model | SHC-11 |
| Standard | MLIT-approved (HK-approved) |
| Approval No. | 4712 |
| Total Weight | Approx. 15.3 kg |
| Total Height | Approx. 830 mm |
| Total Width | Approx. 240 mm |
| Depth | 140 mm |
| Cylinder Diameter (WΦ) | 140 mm |
| Extinguishing Agent Volume | 5.0 kg |
| Cylinder Capacity | 7.8 L |
| Applicable Fires | Oil and electrical fires |
| Discharge Time at 20°C | Approx. 34 sec |
| Discharge Distance at 20°C | Approx. 3–4 m |
| Operating Temperature Range | -30°C to +55°C |
| Anti-Rust/Corrosion-Resistant Treatment | Red synthetic resin paint baked coating |
| Hose | 975 mm |
| Hydrostatic Test Pressure | 24.5 MPa |
| Gas Cartridge Type | – |
| Packing/Shipping Unit | 1 |
| Product Code | 93801100 |